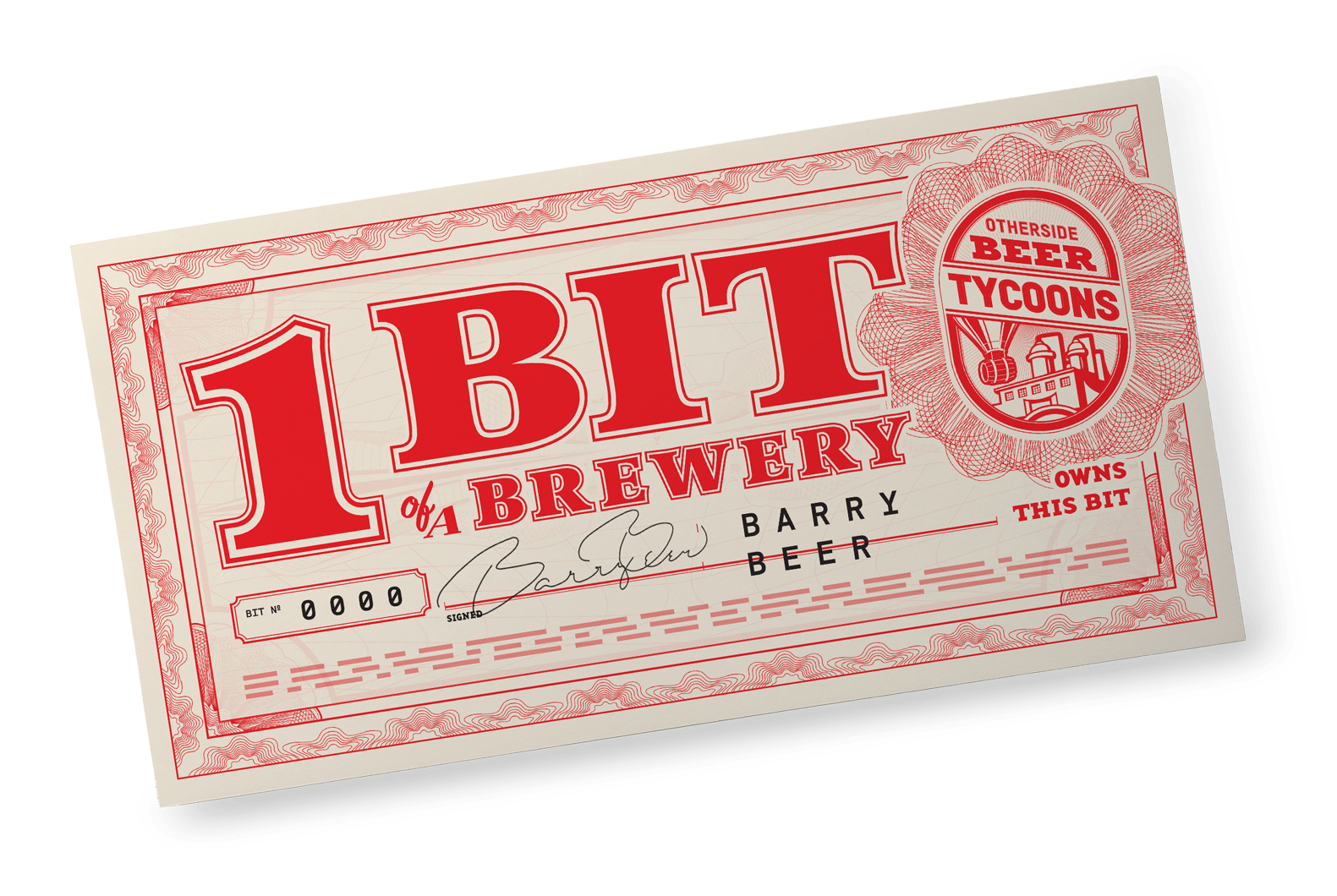 A Bit of a Brewery
NOTE: We've had a flurry of order for Father's Day and we're flat out of stock! Any orders placed from Wednesday onwards are unable to be fulfilled for the weekend - apologies in advance!
WHEN YOU OWN A BIT OF A BREWERY, PEOPLE TREAT YOU DIFFERENTLY – WE CERTAINLY WILL.
A couple of years ago we started brewing beers that we wanted to drink. Then we decided to share those beers with music festival punters and, eventually, the wider world.
What we didn't expect was how popular our beers would become.
In a very short time, the demand for Otherside brews has outgrown our present production capacity, so we decided to take things to the next level and build a new Western Australian brewery.
As we moved to the next stage in our evolution, we wanted to give those who are into what we're doing the opportunity to join a select group — a group that'll own a bit of the Otherside Brewery.
These visionaries shall be known as the Otherside Beer Tycoons.
As a Beer Tycoon you will enjoy a privileged life of fun, froth and frivolity that others can only dream of.
AS A BEER TYCOON YOU ARE ENTITLED TO THE FOLLOWING:
BEER INPUT
The opportunity to contribute during the creation and naming of some new brews with our brewer and marketing team
SPECIAL OFFERS & DISCOUNTS OVER THE BAR
From time-to-time Tycoon-only special offers will be available on brewery purchases

Tycoons receive 10% off at the Brewhouse and at the Freo.Social
PREFERENTIAL ACCESS
Invitations to new beer release tasting sessions and brewery events

Invitation to the Beer Tycoon AGM

The opportunity to claim your brick in the new brewery and have you name inscribed on it for eternity

Exclusive access to giveaways for Freo.Social
PRIVILEGED INFORMATION
Receive the Otherside Tycoons' e-newsletter providing information about Tycoon-only events and offers, advance notice of new releases and other insider info
ADDITIONALLY, TYCOONS RECEIVE A PACKAGE THAT INCLUDES:
An individually numbered, personalised 'BIT OF A BREWERY' certificate

An Otherside stubby holder

An Otherside snapback cap

An exclusive Otherside Beer Tycoon branded growler

An invitation to inscribe your name on your actual bit of the brewery (that is, your brick in the brewery's bar)
… it is the perfect gift for anyone who doesn't already own a brewery
By making this purchase, you agree to the 'Buy a Bit' Terms & Conditions.