Red Beer'd. Brewed to save lives.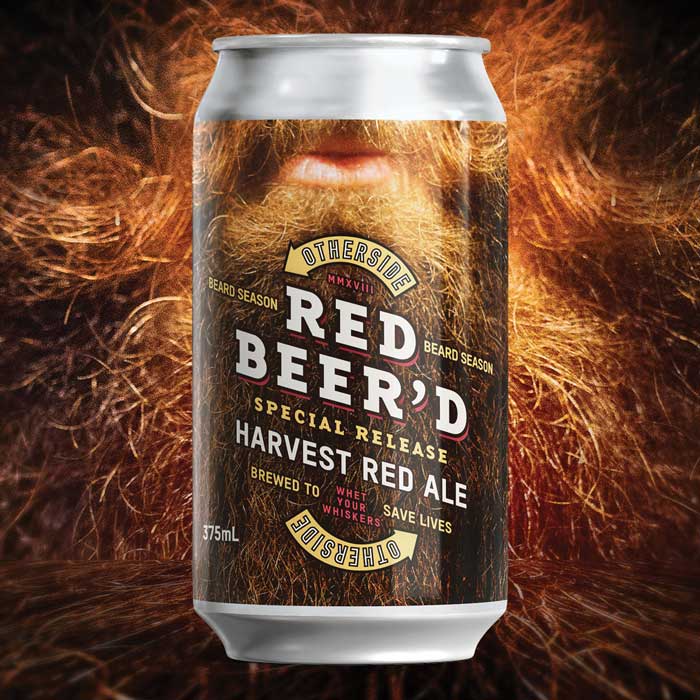 Red Beer'd. Brewed to save lives.
RED BEER'D, in collaboration with Beard Season, is a limited release of our Harvest Red Ale, available in full cases only.
Proceeds from each case go to Beard Season to help raise awareness of melanoma and fund free skin checks around Australia.
Price per case of 16 is $65.
5.4% ALC/VOL
You must be 18 years or older to purchase.
Delivery or Collection Options:
You can have your case delivered via Auspost, or, if you're in WA, you can collect your Red Beer'd case from our Brewhouse, Blaikie Street Myaree WA.
Deliveries will be despatched on 11th September.
Collection from Otherside Brewhouse:
Thur 4pm - 8pm
Fri 4pm - 9pm
Sat 12pm - 9pm
Sun 12pm - 8pm
Read the full Red Beer'd story below…
sold out
Have a think about the last time you saw someone with a beard…
Chances are they were drinking beer, on the way to drinking beer, or dreaming about a time they were drinking beer.
Why? Well it's a universal phenomenon of molecular entanglement which we have heavily researched with Australian charity called Beard Season.
Together, we have named this law of attraction - BEER'D. Something we're celebrating with exciting new collaboration called RED BEER'D.
It's a specially brewed edition of Harvest Red Ale, targeted to beard growers and pogonophiles all around the country. The widely popular, medium bodied, generously hopped beer has vivid melon and citrus notes up front - backed with raisin and plum characters of premium caramel malts - it is artfully crafted to whet whiskers and save lives.
Hold on… save lives!!?? Weren't we just talking about beer? Of course we were.
You see what makes RED BEER'D unique - apart from its majestic packaging and exceptional, irresistible taste - is that proceeds from each can will help Beard Season in their fight melanoma - Australia's 'national cancer'. Funding a free national skin check program - something well worth drinking to.
ABOUT BEARD SEASON
This wooly winter challenge started after the death of a mate from melanoma. From June till August, thousands of gentlemen ditch their razors and grow their beards as life saving conversation starters - encouraging as many people as they can to visit a GP or Dermatologist for a #BeardSeasonSkincheck.
With ambassadors like Sir. Richard Branson, Jarryd Roughead, Hamish Blake and Tom Carroll, they now save an average of a life a week - people who might not be here if it weren't for their friendly, furry advice. This year their goal is to raise a million dollars to fund free pop up skin check clinics where they're needed most. Dramatically improving rates of early detection and awareness.
HOW RED BEER'D CAME ABOUT
We met Beard Season's founder, Jimmy Niggles Esq. at Emergence Creative Festival in Margaret River. Together, over a few beers of course, we dreamt up an idea to launch a Red Ale to gather empirical evidence for their BEER'D hypothesis - while raising vital funds for the cause.
We encourage everyone (bearded or not) to grab a case of RED BEER'D, get a #BeardSeasonSkincheck and give a cheers to beards. Drinking to make a difference